Covered by OHIP?
Most services are covered by the Ontario Health Insurance Plan (OHIP)
Waiting Time
Your timeframe depends on the type of procedure.
OHIP Covered Services
Most services are covered by the Ontario Health Insurance Plan (OHIP)
Lidocaine Infusion – An Effective Treatment for Chronic Pain
Pain is experienced by everyone at some point in their lives; it is the uncomfortable, and sometimes even excruciating, feeling caused by an injury.
This sensation acts like a warning system, alerting your brain that something is wrong so that the injury can be dealt with and further injury can be prevented.
In some individuals, however, pain persists even long after a physical injury has healed; this is called chronic pain. Pain is a symptom of an injury, whereas chronic pain is a condition itself.
Chronic pain can take a toll on an individual's life, both mentally and physically, causing a sometimes debilitating decline in quality of life. Finding effective techniques for managing chronic pain is essential and, with advancements in the specialty of pain management, it is also achievable.
If you are experiencing widespread pain and your current treatments are not providing you with adequate relief, lidocaine infusion treatment may be an effective option for you.
What is lidocaine infusion?
Lidocaine infusion is a nonsurgical, minimally invasive treatment used to relieve chronic, widespread pain caused by certain disorders. Intravenous injections of lidocaine are effective if you are suffering from fibromyalgia, central neuropathic pain that includes spinal cord injuries, or other causalgia.
The treatment procedure involves the infusion of the numbing agent lidocaine into your body intravenously; this helps reduce pain throughout the body by blocking pain receptors in the brain and spinal cord and numbing the nerves as a result.
The treatment is prescribed when standard medications used to treat nerve pain show a lack of effectiveness.
Continuous or repeated lidocaine infusion treatment can offer you long-term relief from pain.
What are the common conditions for which lidocaine is used?
Lidocaine intravenous infusion is used to minimize the symptoms of chronic pain. Along with relieving neuropathic pain, it has been proven to be effective in treating several types of headaches, as well as pain associated with cancer.
Lidocaine infusions are commonly used as an effective and long-lasting form of pain relief for the following conditions:
Lidocaine intravenous infusion to minimize chronic pain symptoms
Central and peripheral neuropathic pain
Peripheral nerve injury
Post-herpetic neuralgia
Fibromyalgia
Chronic diabetic neuropathy
Vascular headaches
Persistent postsurgical pain
Complex regional pain syndrome
Cancer pain
Chronic refractory pain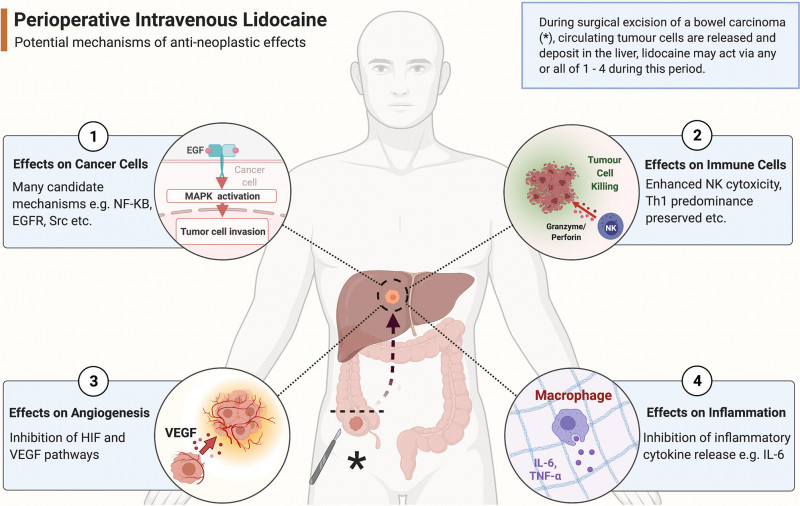 Patients with Fibromyalgia
Fibromyalgia is characterized by widespread chronic pain associated with sleep disturbance, fatigue, and psychological distress; it is a condition that can have a devastating impact on quality of life.
The symptoms occur due to changes in how the brain and spinal cord process signals, causing pain sensations to be amplified.
While fibromyalgia is a difficult condition to manage and is not responsive to many interventions, recent studies have shown that serial lidocaine infusions are effective in managing pain in most individuals.
Doctors consider IV lidocaine infusions to be an excellent treatment option for fibromyalgia patients who are refractory to other treatments.
Patients with Neuropathic Pain
Is neuropathic pain or complex regional pain syndrome adversely affecting your quality of life? In this condition, the expression of sodium channels is modified, which causes an unpleasant feeling of pain.
An intravenous combination of lidocaine and magnesium has been clinically proven to be an effective treatment for reducing the sensation of pain by sodium channel-blocking action.
Lidocaine has some additional modes of action that help treat central and peripheral pain. It contains more potent anti-inflammatory properties than other standard anti-inflammatory medicines.
Patients with Perioperative Pain
An upcoming surgery has enough reasons to make you anxious; you shouldn't have to worry about unmanageable pain as well.
The use of intravenous lidocaine infusions can reduce or eliminate your perioperative pain effectively. Intravenous local anesthetic infusions can block pain transmission in the spinal cord and reduce the sensation of pain.
Some benefits of using this perioperative pain management process include a speedier return of bowel function after surgery and an earlier release from the hospital.
Patients with Cancer
If you are a cancer patient, you are likely very familiar with chronic pain. Despite advances in cancer treatment, widespread pain continues to be a predominant problem for patients.
Lidocaine infusions have become a very appealing option for cancer pain management due to their low cost, ease of administration, and minimal side effects. In addition, lidocaine can be administered to cancer patients repeatedly as required.
What are the possible side effects?
Lidocaine is a safe medication compared to other pain available pain medications; however, no drug or medical procedure is entirely risk-free. While the side effects associated with lidocaine infusions are minimal, common side effects include: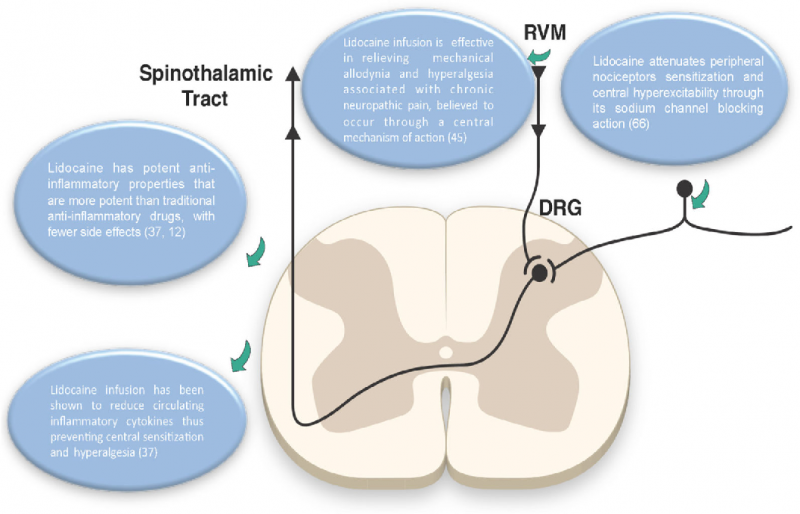 Swelling, redness, rash, or skin irritation at the site of injection
Nausea, vomiting, or constipation
Dizziness, headache, slurred speech, drowsiness, or visual changes
Numbness around the lips or ringing in the ears
Extremely rare, but serious, side effects include:
Changes in blood pressure and heart arrhythmias
Allergic reactions
Seizures
Malignant hyperthermia
While the rare side effects are serious, they are also very rare. Most side effects resolve within one hour of treatment.
How to prepare for your appointment
Please bring a current health card.
Make arrangements for someone to drive you home (or some other mode of transportation, such as public transit or taxi) following the procedure, as possible side effects such as drowsiness make it inadvisable for you to drive temporarily.
You will need to follow the relevant COVID-19 protocols for your own safety and that of our staff and other patients. You can find further information about these safety measures at drwilderman.com/covid-19
Prior to receiving a lidocaine infusion
You will have a consultation with the physician prior to your lidocaine infusion to discuss your condition and health history; at this point, the procedure will be explained to you and you have the opportunity to ask questions.
It is imperative that you inform the physician if any of the following apply:
You experienced an allergic reaction to an anesthetic in the past. Your doctor will need to know the name of the anesthetic as well as what type of reaction you experienced.
 You have a history of heart failure, any degree of heart block, or a seizure disorder
Any disorder or disease related to liver or kidney function
You are pregnant or breastfeeding or will do the same in the near future
You take any medication – prescribed, non-prescribed, over-the-counter or herbal
What to expect during your procedure
During the treatment, you will be positioned comfortably on a bed or trolley and the IV will be sited in a vein on your arm.
The lidocaine infusion medication will then be administered; as it enters your bloodstream, your body's pain response systems will become less sensitive. This process will take approximately 1-1.5 hours.
Throughout the procedure, you will be monitored by our medical staff for any changes in heart rate or blood pressure, or any adverse reactions. In the event that you do experience side effects, they typically resolve within an hour.
You may experience immediate relief from your pain or the effects may take a little bit longer; the speed of effect varies and, unfortunately, in a very small minority of people the treatment does not provide relief. From a single dose of lidocaine, pain relief typically lasts between one to four weeks.
A nurse will be available to answer any questions you might have and review instructions for follow-up care with you.
Once your procedure is complete, you are free to go home; please remember to arrange for a safe form of transportation, as it is not safe for you to drive immediately following this procedure.
Activities: Rest. Do not drive for three hours after the procedure. On the day following your procedure, you may resume your normal daily activities.
Medication: You may take whatever medications you normally use for pain management.
Follow-up: Make an appointment for follow-up. If you experienced significant, lasting pain relief you can repeat the procedure as needed. If, however, you experience minimal or no pain relief, don't be discouraged! Talk with your physician about your options.
We recently published an article in 2019 outlining the lidocaine infusion procedure which can be found in the link below.
Emily Melikman, Enas Kandil, Bryon Adinoff.  Lidocaine Infusion: A Promising Therapeutic Approach for Chronic Pain, PMC [Published online Jan 11, 2017]<https://www.ncbi.nlm.nih.gov/pmc/articles/PMC5323245/#R32>
David M. Marks, Amy Newhouse Durability of Benefit from Repeated Intravenous Lidocaine Infusions in Fibromyalgia Patients: A Case Series and Literature Review, PMC [Published online Sep 17, 2015] <https://www.ncbi.nlm.nih.gov/pmc/articles/PMC4732305/>
Igor Wilderman. Repeated Intravenous Lidocaine Infusions for Patients with Fibromyalgia: Higher Doses of Lidocaine Have a Stronger and Linger-Lasting Effect on Pain Reduction, Oxford [Published Online Jan 10, 2019]
Kara Buck, Hanna Christensen, Marilyn Bazinski. Systemic Lidocaine for the Treatment of Pain-Adult/Pediatric- Inpatient/Ambulatory/Emergency Department Clinical Practice Guideline, UW Health Oct 9, 2019 <https://www.uwhealth.org/cckm/cpg/medications/Systemic-Lidocaine-for-the-Treatment-of-Pain—Adult-Pediatric—IP-Amb-ED-191003.pdf>
IV Lidocaine Infusion, St. Joseph's Health Care London Pain Management Clinic June 16, 2020, <https://www.sjhc.london.on.ca/patients-and-visitors/online-patient-and-caregiver-resource-library/iv-lidocaine-infusion>
John P. Cunha, Lidocaine, RXList, Aug 13, 2021 <https://www.rxlist.com/consumer_lidocaine_lidopen/drugs-condition.htm>
Jessica Martin, Intravenous Lidocaine Safe, Effective for Chronic Pain, Clinical Pain Advisor [Published online Aug 30, 2017] <https://www.clinicalpainadvisor.com/home/topics/chronic-pain/intravenous-lidocaine-safe-effective-for-chronic-pain/>
Lidocaine Infusion, Desert Pain Specialists <https://desertpainspecialists.com/treatments-2/lidocaine-infusion/>
Intravenous Lidocaine Infusion – Complications, Stanford Health Care <https://stanfordhealthcare.org/medical-treatments/i/intravenous-lidocaine-infusion/complications.html>